July 13, 2020
Naniwa Pump Mfg. Co., Ltd.
Naniwa Pump Mfg. Co., Ltd. has developed an ultra-light weight pump made of CFRP (Carbon Fiber Reinforced Plastics). This high durability marine pump constitutes a "first in the world". It has been supplied for the Kawasaki Heavy Industry built Jet Foil "SEVEN ISLANDS YUI". Tokai Kisen Co., Ltd. and Japan Railway Construction, Transport and Technology Agency have jointly ordered the construction of this vessel based on a 25 year old design.
The development of the CFRP pump was supported by a grant – initiated in 2014 – from The Nippon Foundation and the Japan Ship Machinery and Equipment Association. The grant was established specifically for advancing the technology to develop pumps made of light weight composite materials.
Upon learning of this newbuilding project Naniwa Pump Mfg. Co., Ltd. proposed replacing the "traditional" aluminum pump by its newly developed CFRP model. It is ultra-light – one fourth (1/4) the weight of standard bronze cast pumps commonly in use for seagoing vessels. Durability & maintainability of the CFRP pump cannot be matched by the aluminum model, previously installed on Kawasaki's Jet Foil series.
Repeated and numerous component tests confirmed achieving the desired pressure resistance and durability, capable of withstanding the most severe usage environment. A two year development effort in close cooperation with our customer Kawasaki Heavy Industry as well as the vessels operator Tokai Kisen Co., Ltd. was crowned by the vessels delivery on June 30, 2020.
The "SEVEN ISLANDS YUI" will operate for passenger transport on routes between Takeshiba (Tokyo) and the Izu Island area.
【Items】
| | | |
| --- | --- | --- |
| Pump name | COOLING SEA WATER PUMP | FIRE PUMP |
| Capacity | 34.5m3/h | 45.9m3/h |
| Total head | 32m | 47m |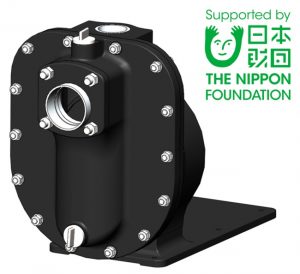 COOLING SEA WATER PUMP
 Model… SHRF-65-C
Kawasaki Heavy Industry plans to install this type of CFRP pump on future rebuilds of the Kawasaki Jet Foil series. The Naniwa CFRP pump has become another member in Naniwa's growing product family. R&D in high durability and ultra-light weight pumps continues.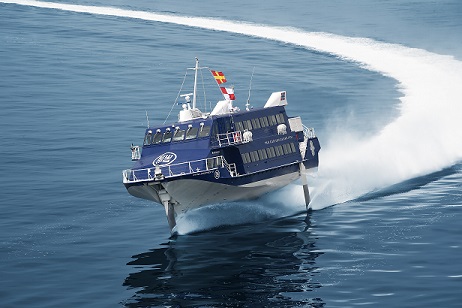 【SEVEN ISLANDS YUI】 (Photo provided by Kawasaki HI)